Fountain Pen Review: TIANZI T01 Sky Blue Piston-Fill Fountain Pen
Nov 15, 2021 by Clement Dionglay

Surprise!!! Here's a new fountain pen brand in Rants of The Archer! Did I surprise you? Maybe not, but MysteryhouseCrafts from Etsy.com surprised me with their TIANZI T01 Sky Blue piston-fill fountain pen. I learned about the TIANZI fountain pen when fellow pen enthusiast Alex Umali told me about the brand. After our chat, I checked the fountain pens on Etsy and Instagram and I thought that the pens are quite impressive. I also read some good reviews from happy fountain pen users. There are several TIANZI fountain pens in different finishes and I liked the clear ones. I chatted with the makers of TIANZI, and we agreed to do a collab review of their Sky Blue fountain pen.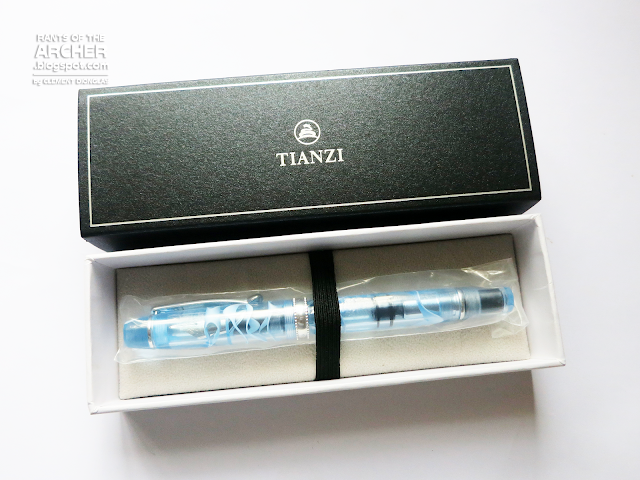 TIANZI fountain pen presented in a gift box.
Shanghai-based MysteryhouseCrafts calls themselves "material masters" because they can make the same material into diamond painting pens, crochet hooks, and yes—fountain pens. Before they ventured into making fountain pens, they thought that it was an outdated craft with ballpoints, gel pens, and electronic messaging now widely available. Yet, the following that their fountain pens received from enthusiasts from all over the world not only inspired them but gave them a new purpose. Now many more people are enjoying TIANZI fountain pens.
TIANZI is an impressive fountain pen. It's simple yet classy, inexpensive but functional, and designed well. Out of the box, I liked it right away. The pen size has a good balance, and the acrylic felt good in my hand. The steel No. 6 medium nib wrote well, but you know what the best part about this fountain pen? It's a piston filler! Not bad for US$40.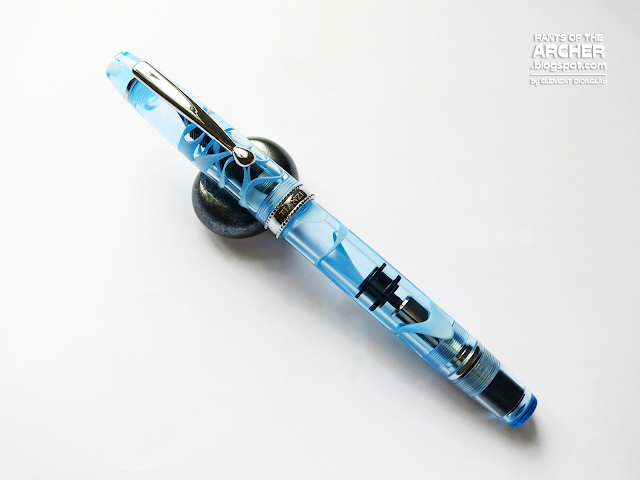 TIANZI T01 Sky Blue Piston-Fill Fountain Pen. The transparent acrylic with swirls is beautiful.
The TIANZI fountain pen has the following measurements and specifications:
Length, capped: 5.77 in | 14.7 cm
Length, uncapped: 5.24 in | 13.3 cm
Full pen weight: 19.8 g | 0.7 oz
Body material: Acrylic
Trim: Chrome
Cap: Acrylic, screw-on, cannot be posted
Clip material: Metal
Nib: No. 6 stainless steel in Fine or Medium
Filling mechanism: Piston fill only
Colors: Sky Blue, White, Mauve, Dark Green, Mystery Blue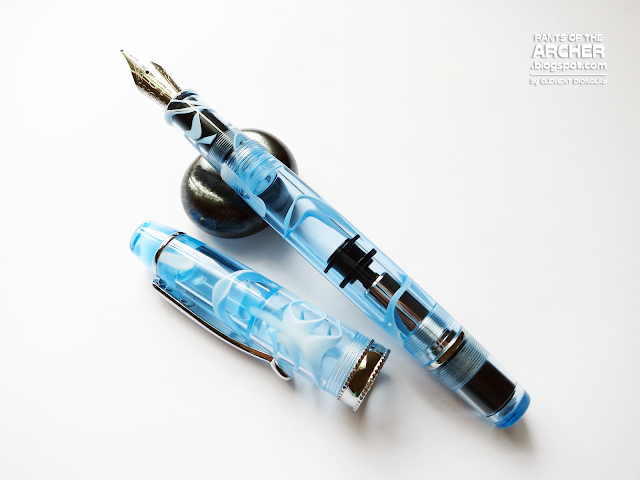 TIANZI fountain pen is an excellent daily writer with a large ink reservoir. Perfect for long writing sessions without the need to reink frequently.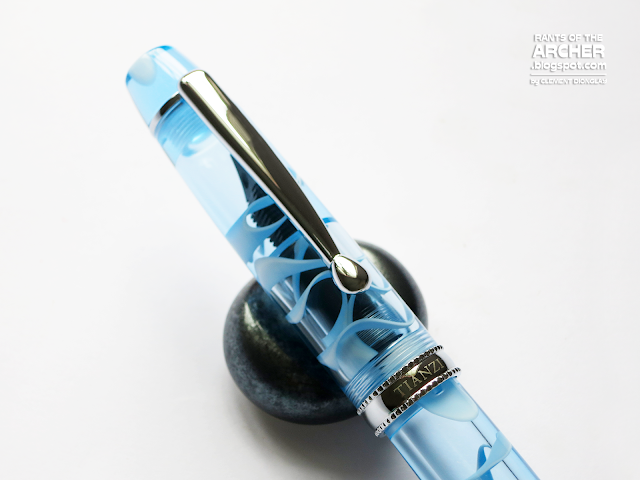 TIANZI's cap is also made from the same material as the pen's barrel/body. The clip is springy, and the cap band is imprinted with the pen name. This pen's cap does not post, though, which is not a problem with me because I don't post my pens.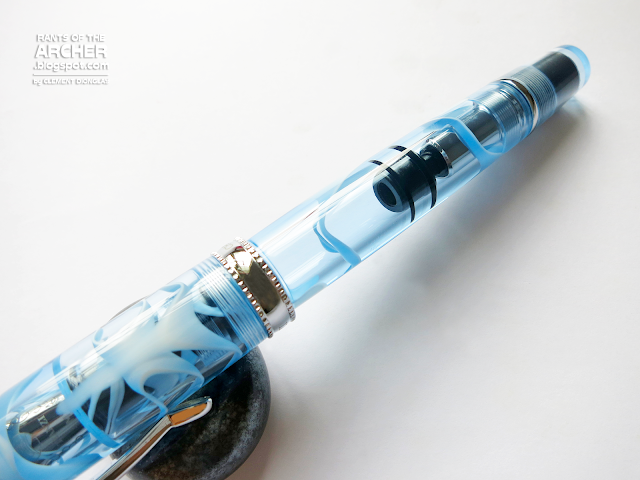 The transparent barrel of the TIANZI T01 Sky Blue looks so cool! I hope it won't stain easily. The piston mechanism also works well and filling the pen with ink was a breeze! I just wish TIANZI has a wrench to help in disassembling the piston mechanism for cleaning.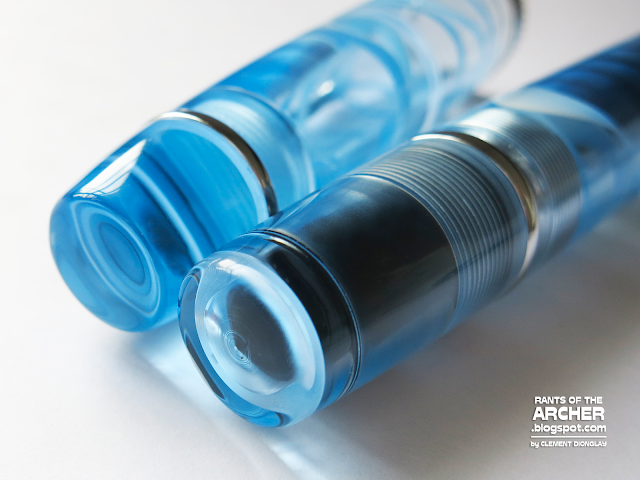 I like the cap top and barrel end of the TIANZI. The solid acrylic reminds me of the glass marbles that my brothers used to play with when we were younger.
TIANZI's stainless steel No. 6 medium nib is engraved with the logo, TIANZI, and M to indicate the nib width. Though TIANZI is offered only with Fine or Medium nibs, these steel nibs are excellent. My pen's Medium nib wrote smoothly out of the box without the need for priming or any modifications.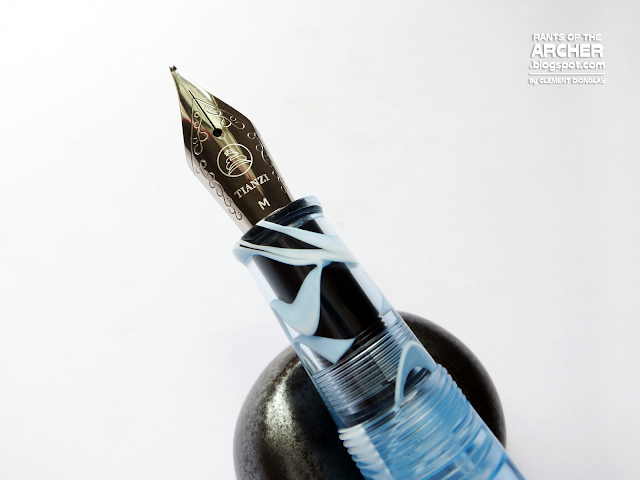 TIANZI's Medium nib writes smoothly.
The TIANZI is a full-sized fountain pen measuring 5.77 inches while capped. It has the same length as the Narwhal Original, both are slightly longer than the TWSBI 530, ECO, and Lamy Vista. Uncapped, all five pens share the same length.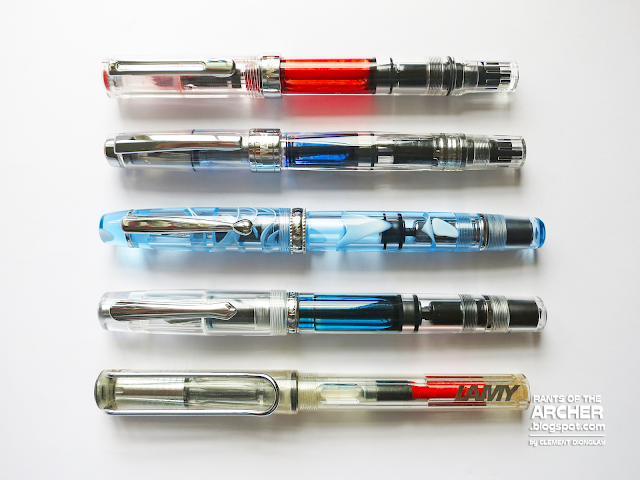 From top: TWSBI ECO, TWSBI 530, Tianzi, Narwhal Original, and Lamy Vista.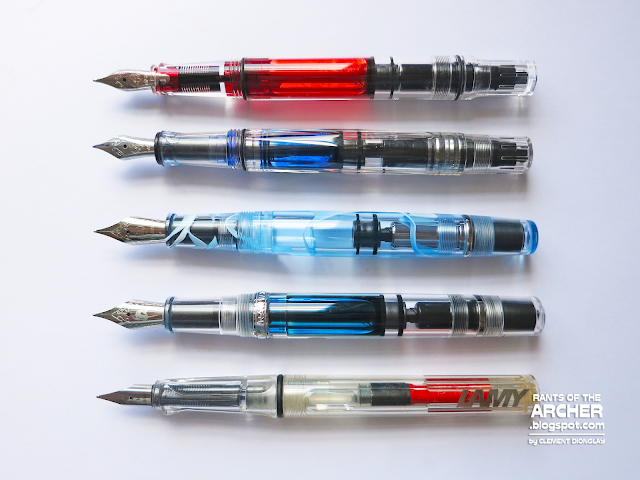 I love filling my fountain pens with matching ink colors, and I chose J. Herbin Bleu Pervenche, an old favorite for my TIANZI Sky Blue. It's a perfect match! TIANZI wrote well as soon as I filled it with ink. I did not experience any hard starts, skipping, or ink blobs which is a common concern with piston fillers. I did not experience any problems with TIANZI's nib. It's perfect for writing, doodling, and sketching small shapes. It's an enjoyable pen and just right for my stick font handwriting style. It's beautiful, elegant, sturdy, and comfortable to use for long periods of writing.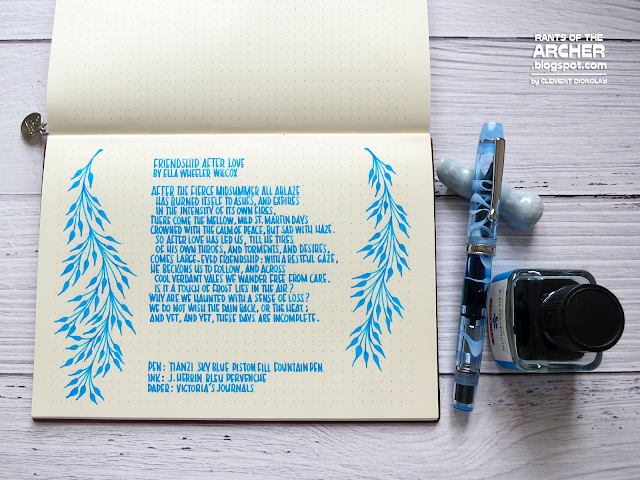 TIANZI's nib wrote smooth and wet, and it's a perfect match with J. Herbin Bleu Pervenche.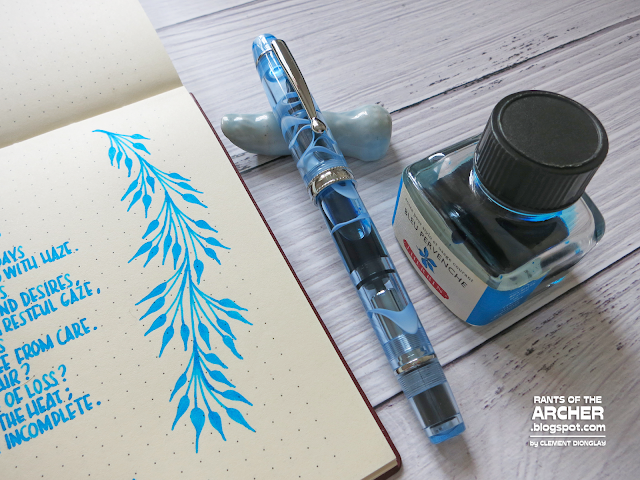 Perfect pairing: TIANZI T01 Sky Blue and J. Herbin Bleu Pervenche.
I am satisfied with the TIANZI fountain pen and its Medium nib. I recommend it to anyone who wants to explore the brand or try a piston-fill fountain pen. This fountain pen is a perfect daily writer for newbies and long-time fountain pen users. Get one for your collection!
Many thanks Rants of The Archer&Clement Dionglay for providing the TIANZI T01 in Sky Blue Piston-Fill Fountain Pen in this review.
Do you think this is an interesting pen? Add it to cart.