Fountain Pen Brand Research - Lamy
Jan 03, 2023 by Pen&Friend
Brand:Lamy
Established:1930
Headquarter:Heidelberg, Germany
Website:www.lamy.com
Ins:https://www.instagram.com/lamy_global
Facebook:https://www.facebook.com/LAMYGermany
YouTube:https://www.youtube.com/user/lamy

Product Category:
Fountain pens
Rollerball pens
Ballpoint pens
Propelling pencils

Lamy Product Series: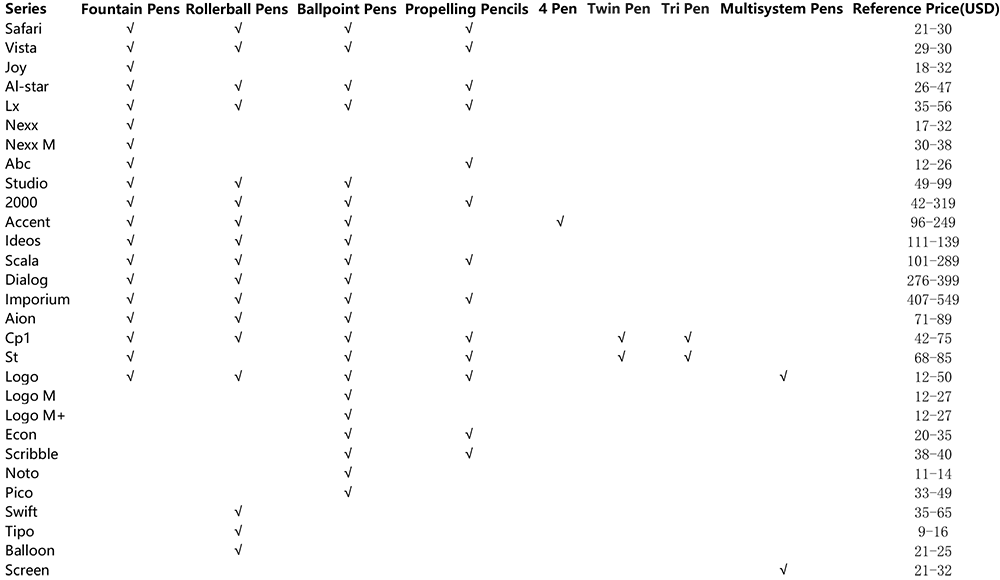 Features:
So far Lamy has more than 30 product series. I think most people know it from its stylish design. However, this is only one of its many designs.
In China, Lamy has been focusing on the gift market and has carried out a lot of marketing activities for this purpose. You can even find Lamy counters in high-end shopping malls in some first-tier cities.

Representative products:
Lamy 2000
Among Lamy's many fountain pens, the most widely praised is undoubtedly the Lamy 2000. Many pen lovers consider it to be Lamy's most iconic pen and as a fountain pen manufacturer, we also believe it is one of the greatest fountain pens of all time. The Lamy 2000 was released in 1966 and has a history of 47 years, but its futuristic design still holds up by today's standards.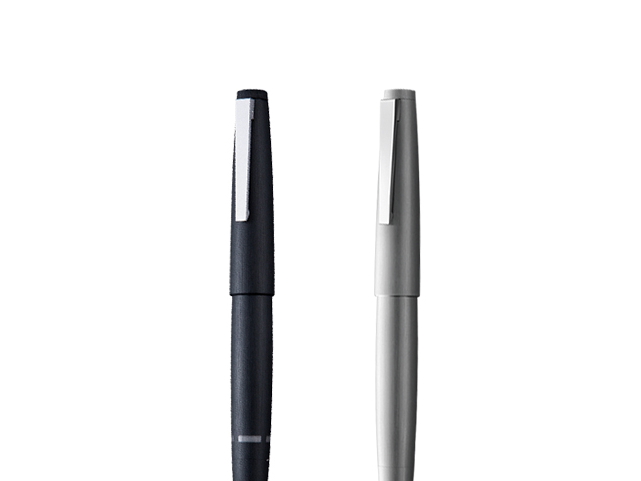 There are several reasons why people love the Lamy 2000:
Firstly, its shape is exquisite and simple, with no extra decoration. It has a low-key, typical Bauhaus style that is appreciated by some pen lovers who likes minimally styled pens , although others may find it monotonous compared to other Lamy series.
Secondly, the manufacturing process is excellent. The Lamy 2000's barrel is made of a fiberglass-type material that is lightweight, yet sturdy, and warms to the touch. It also has a brushed Makrolon body and a brushed stainless steel grip, giving it a modern look. The inking system for the 2000 is a piston filler that is integrated flawlessly, similar to our TIANZI fountain pen. It also has a 14k gold hooded nib with platinum coating, which is not immediately apparent to those unfamiliar with Lamy.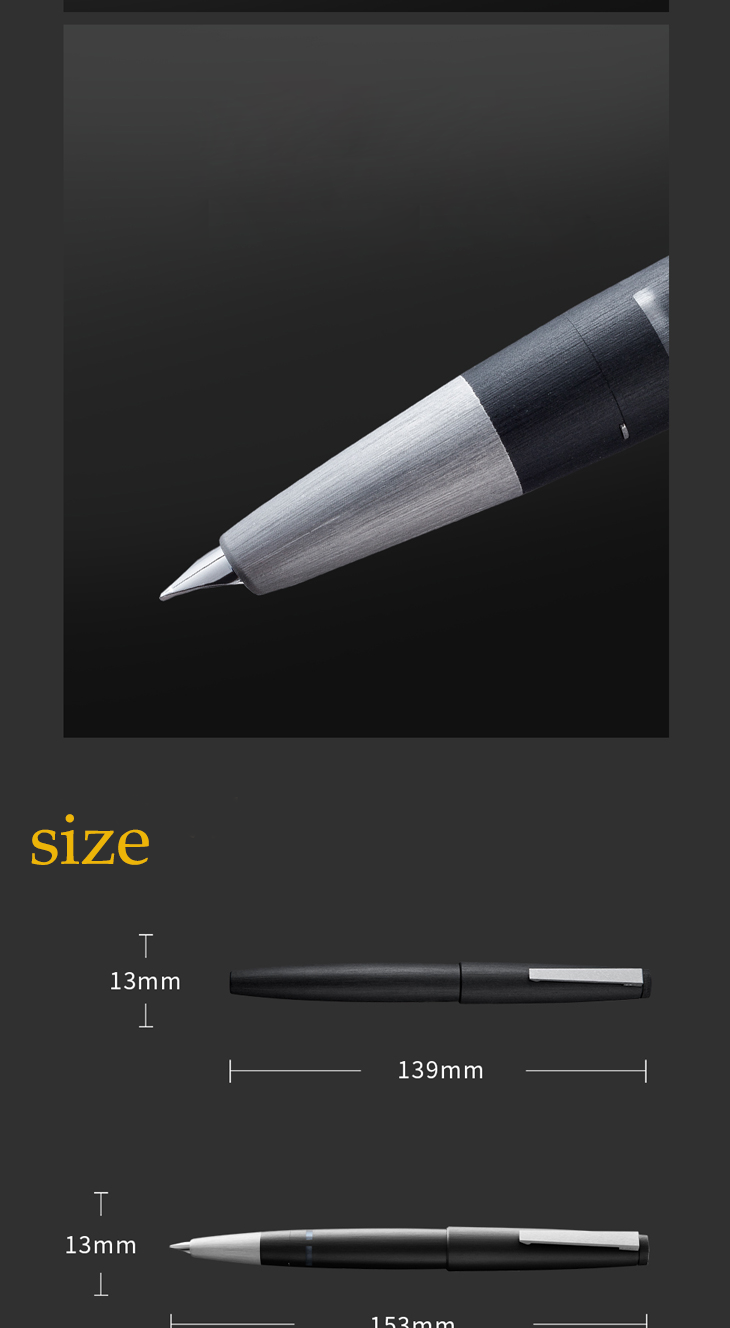 Thirdly, the writing experience with the Lamy 2000 is great and the nib is super smooth, earning it the nickname "a pen without shortcomings" among pen enthusiasts.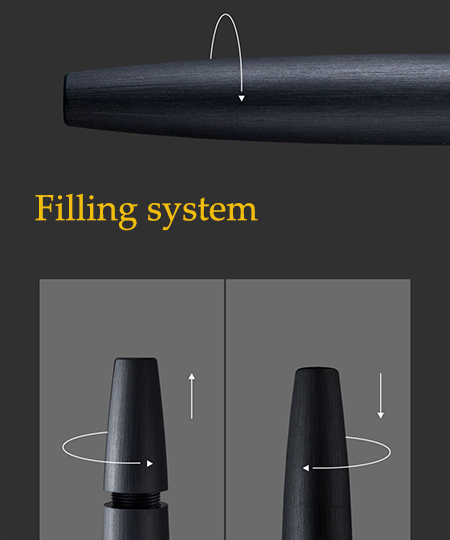 However, some users have reported that the nib tends to stick to the page, causing skipping in the line. This seems to be a matter of luck.



Lamy Vista
Another Lamy fountain pen that I think has more character is the Lamy Vista.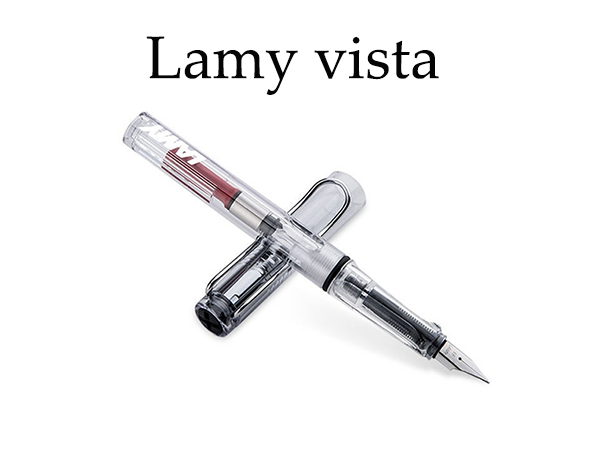 It is a stunning pen with a clear plastic body that shows off all of its inner workings. I find this very interesting because it allows me to see how the pen functions. At the same time, you can see the ink inside the system behind the nib, so you can keep track of how much ink remains in the cartridge. Although the body is made of plastic, the pen is well-made and feels sturdy in the hand.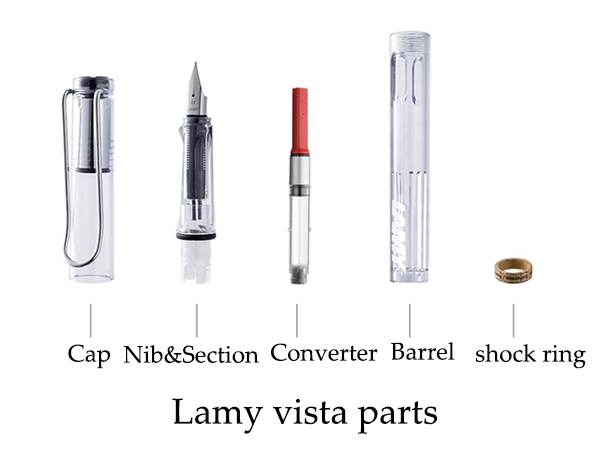 The Lamy Safari and Vista pens are known for their unique molded triangular grip, which forces people to hold the pen correctly.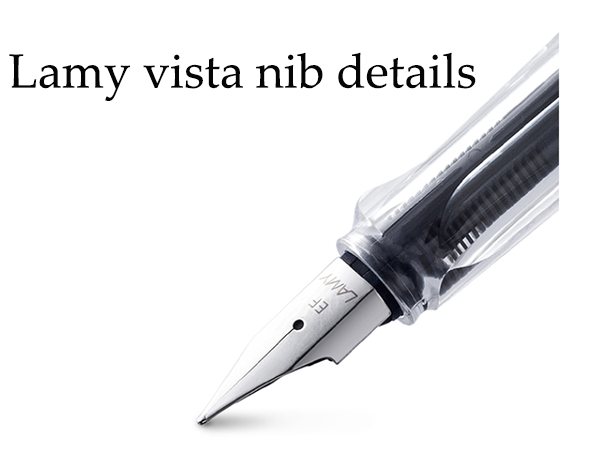 However, I don't think it is friendly enough for someone who is used to holding a pen in a different position.



Lamy Safari, AL-Star and Lx
As for the Safari, AL-Star, and Lx series, these three pens should be considered the best-selling in the Lamy line because they are not expensive compared to the other Lamy pens. The Safari is often referred to as one of the most popular starter fountain pens.
I really like the style of these pens because they have a more modern design than many other fountain pens and come in a wide variety of very bright colors. This looks very stylish and I think younger people would particularly enjoy them.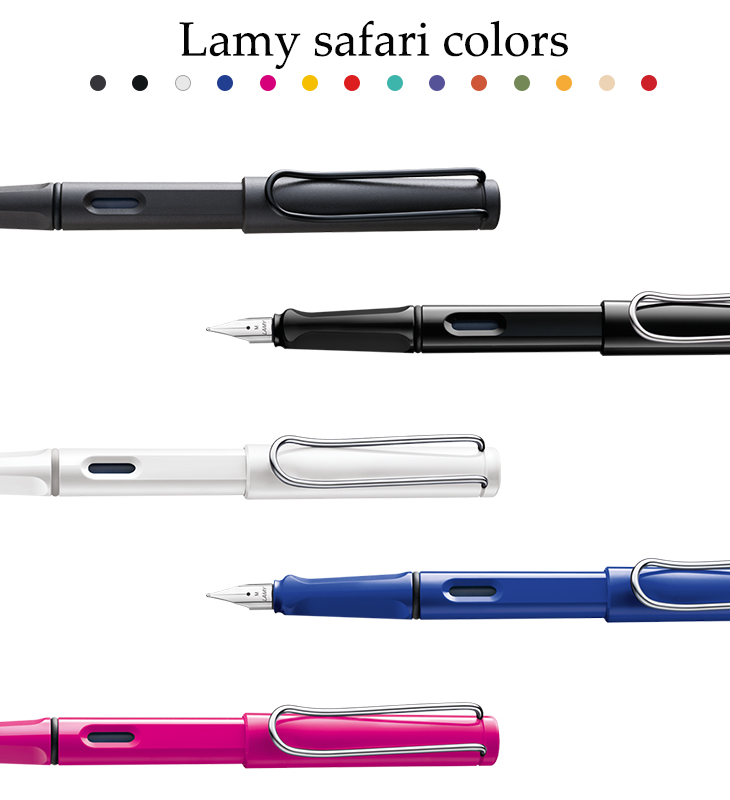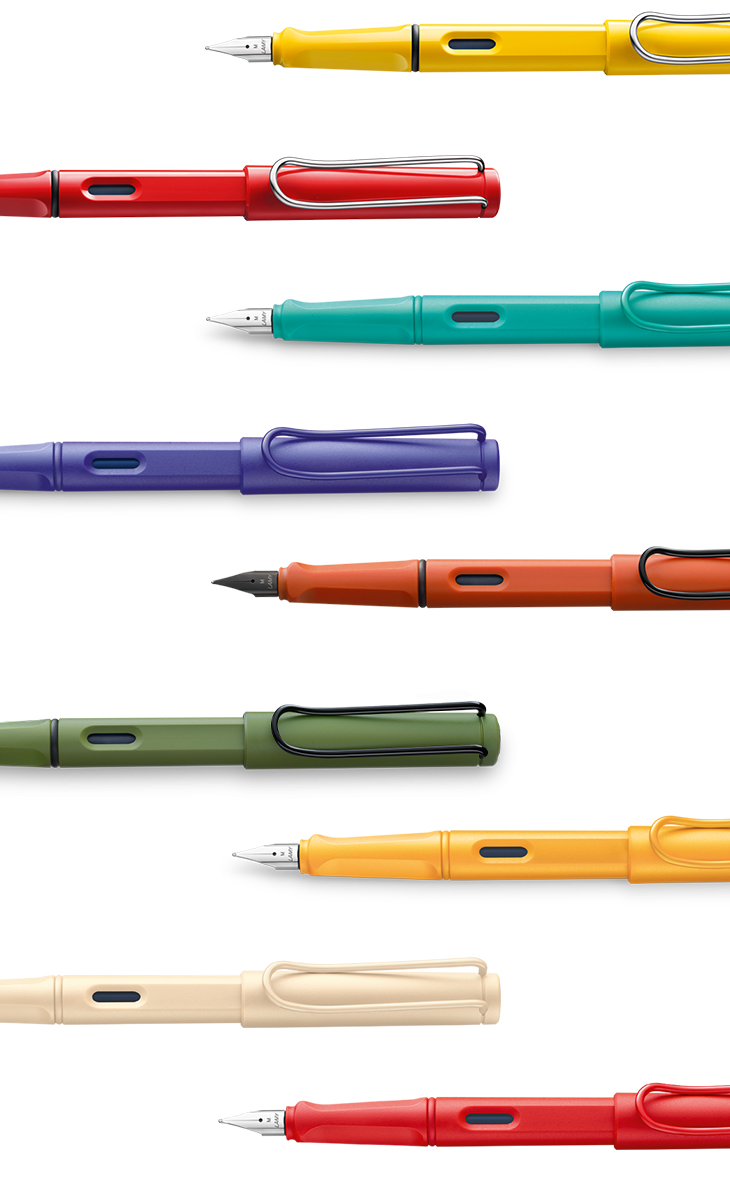 Additionally, a lot of thought has been put into the design of the barrel and section to make it easy to hold and to show how much ink is left, which is very useful.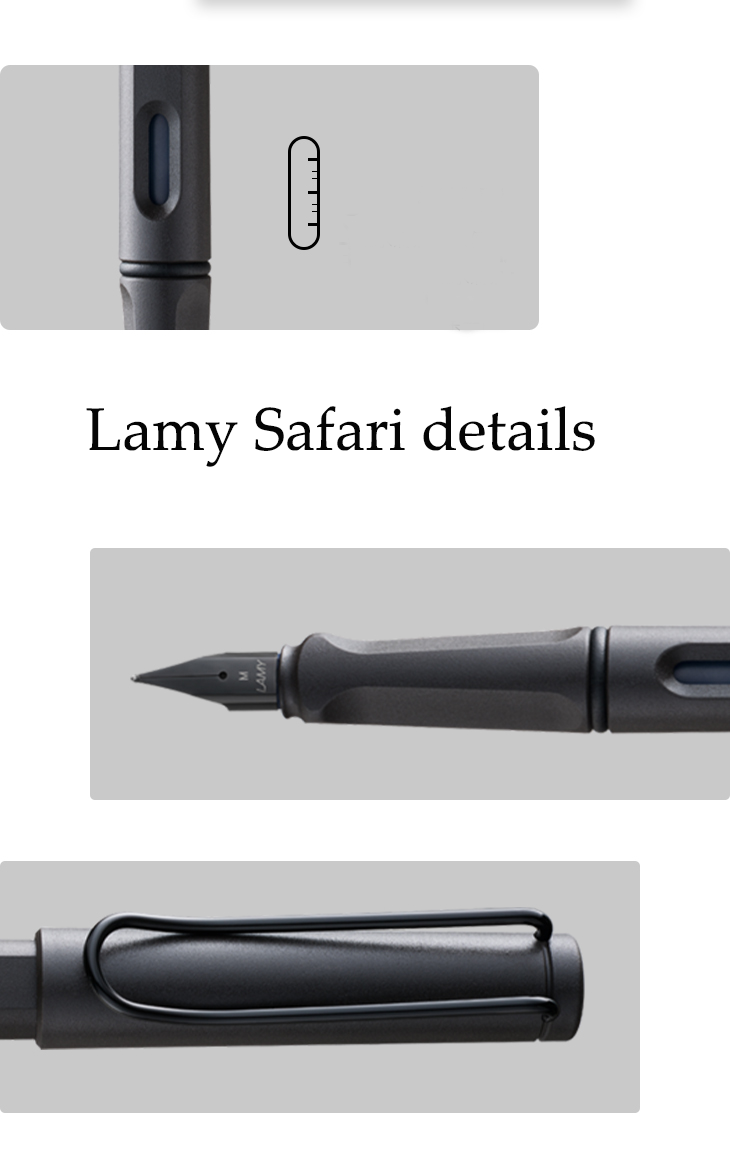 Many people might see these three series and think they are very similar, and some may even wonder what the difference is between them. Generally, the Safari, AL-Star, and Lx have similar design ideas, but they differ in the materials used. These three series can be thought of as low, medium, and high configurations, which are reflected in their prices.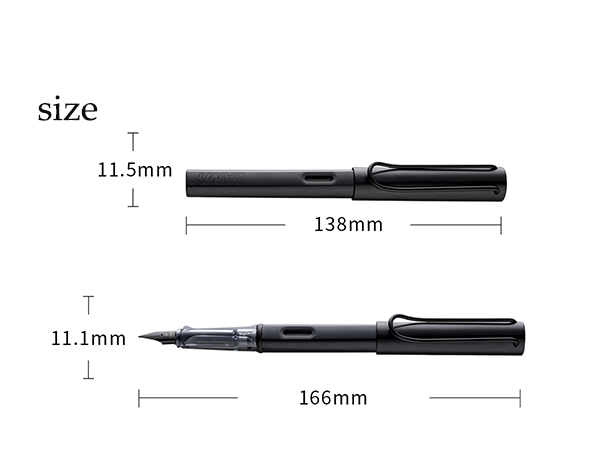 The Safari is made of Acrylonitrile Butadiene Styrene (ABS), which is the cheapest material. The Lx pen body is made entirely of metal (aluminum oxide) with some extra shiny trim pieces, making it the most expensive among the three series. The AL-Star is in the middle in terms of price.